Coastal design embodies the beauty of the beach, taking its cue from the color of the sand, ocean, and sky. Coastal design brings the outdoors in creating a sense of relaxation and harmony with nature. Though it can often be confused with nautical design, coastal has its own predominant characteristics. Crisp whites, organic textures, loose linens, stripes and hues of layered blues and taupe are all features that create a coastal space. And even if you live nowhere near the shore, you can still make your home feel like a breezy retreat with these design tips!
Open and Airy
Coastal design favors an open floor plan with minimal clutter. Keep the space as light and airy as possible with tons of natural light and minimal window treatments. Even if you do not have lots of windows and skylights, you can still achieve a coastal feel by embracing a minimalistic vibe.
Neutral Palette
White is the color of coastal design. It can make any space feel more substantial, and it is the perfect backdrop for soft natural hues. Though you may automatically think of a bold navy and white scheme, coastal is much more about the beach's natural shades. Accent colors typically include muted tones of warm beige, light blues greens, and greys, all to create the relaxing vibe of a seaside retreat. Though the use of stripes is a popular feature in coastal décor, use them sparingly to keep the room warm and appealing.
Casual and Comfortable
When choosing furniture and décor, think casual and comfortable. Whether it be your dining or living room areas, keep lots of space around the settings to enhance the feeling of airiness. Slip-covers in natural fibers such as cotton and linen has become synonymous with a coastal style furniture. Plush cushions and throw blankets in layered shades of blues and taupe will create that welcoming beachy aesthetic.
Organic Textures
Organic materials and textures are a must when choosing coastal style accessories and décor.  Forget shiny metallic and opt for natural jute rugs, rattan, blue-green glass vases, or textured pieces in wood or ceramic. Avoid typical beach artwork and have fun with more contemporary abstract pieces that embody the real feeling of a beach setting such as waves or flora.
Natural wood floors are an essential element of coastal design. Weathered wood in white-wash, blond maple and ash are popular choices to complement the crisp white interiors of a coastal space.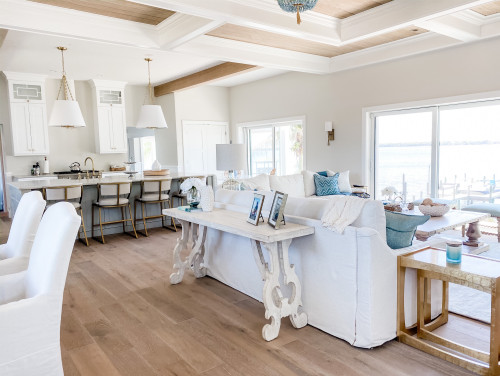 If your thinking of an interior design update, the simple elegance of coastal design can transport you from the stresses of everyday life into a blissful retreat.
Love the look? Why not rent it!
Renting furniture or staging could not be easier or more affordable with Arc Furnished Solutions. No need to make several phone calls relaying the same information and sorting through different terms, furniture selections, and prices. Arc will procure up to 3 competitive furniture rental or staging quotes in 1-2 days after a quick call to get a clear understanding of your needs